Kevin Stawiarski, Keys/Vocals
Jim Gutierrez, Bass/ Vocals
Gary Stratton, Guitar/Vocals
Angelo Zeritis / Drums Vocals
Scott Baker, Trumpet
Dave Creighton , Sax
Kevin Mann, Trombone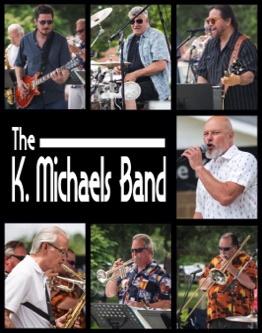 The K. Michaels Band is a seven-piece Classic Rock Horn Band featuring the music of the band Chicago's early years.
These seven uniquely talented musicians, each with over twenty-five years of experience, have for the past nine years, enjoyed entertaining Chicagoland audiences with their lively and impressive brand of horn-based classic rock.
In addition to honoring the band Chicago, The K. Michaels Band pays heartfelt tribute to other great bands of the 60' and 70's whose timeless music was, and still is enjoyed around the globe. In their live performances The K. Michaels Band also accurately and earnestly covers The Beatles, The Doobie Brothers, The Grass Roots, Joe Cocker, Lighthouse and many others.
Their love for performing live music is conveyed to their audiences through well-rehearsed vocal harmonies, tight rhythm and an outstanding horn section. The band's use of four lead vocalists also keeps things fresh and allows for nicely blended background harmonies.
Most of the members of The K. Michaels Band are not only band mates but also long time friends, two of which are Chicago firefighters. The band's camaraderie and experience is evident and communicated to their audiences with a relaxed professional stage presence and tight musical performance.
Over the years The K. Michaels Band has overwhelmingly satisfied their clients by providing top quality entertainment, using top quality equipment and providing a personal touch to the business end of things, all while keeping their performance rates extremely reasonable.
Important to add is that The K. Michaels Band is "family friendly". Their shows have been well received by people of all ages. Audiences will enjoy the music of The K. Michaels Band as much as their talented and sincere musicians enjoy performing it.